Penne with Roasted Salmon, Artichokes, Lemon & Basil
Discover the unique taste of our Penne with Roasted Salmon, Artichokes, Lemon, and Basil.
| | |
| --- | --- |
| Tip | Avoid artichoke hearts marinated in oil and opt for a canned variety with the least amount of sodium. |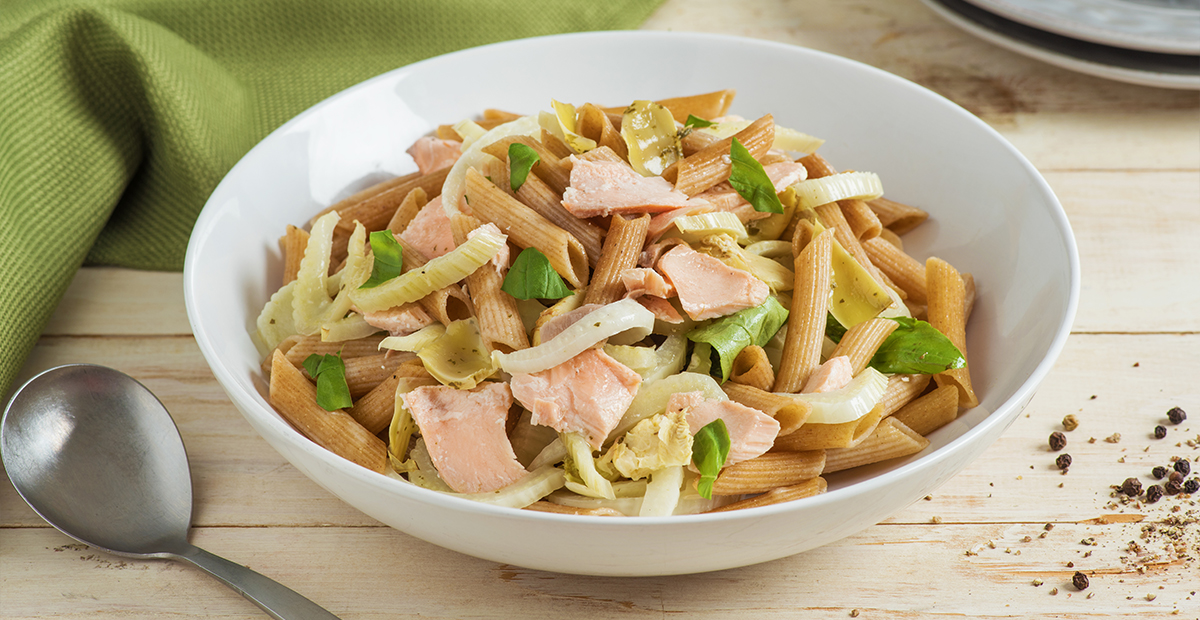 10 Minutes
---
15 Minutes
---
6 People
---
Cooking Steps
---
Step 1
Preheat the oven to 400°F (200°C). Finely mince 1 clove of garlic; thinly slice the remaining cloves. Whisk the oil with the lemon juice, minced garlic, lemon zest, mustard, honey, salt and pepper.

Step 2
Arrange the salmon on one side of a foil-lined, rimmed baking sheet. Measure out 1 tbsp (15 mL) of the lemon mixture; brush evenly over the fish. Measure out an additional 1 tbsp (15 mL) of the dressing; toss with the fennel and sliced garlic. Arrange in a thin layer on the other side of the baking sheet. Reserve the remaining dressing. Roast the salmon and fennel for 15 minutes or until salmon is just coral on the inside when tested with a knife and fennel is softened.

Step 3
Meanwhile, prepare the penne according to package directions; drain well and keep warm. Break the salmon fillets into large chunks. Toss the warm penne with the salmon, fennel mixture, artichoke hearts, basil and reserved dressing until well combined. Season with additional pepper to taste. Serve hot or at room temperature.

Ingredients
---
 1 pkg (375 g)CATELLI® HEALTHY HARVEST® WHOLE WHEAT PENNE RIGATE

cloves garlic, divided

5

canola oil and lemon juice

 1/4 cup (50 mL) each

finely grated lemon zest

2 tsp (10 mL)

Dijon mustard and honey

2 tsp (10 mL) each

salt and pepper

1/8 tsp (0.5 mL) each

boneless, skinless salmon fillets

3 (175 g)

fennel, very thinly sliced

1 bulb (1 L)

drained and rinsed artichoke hearts, chopped

1 1/2 cups (375 mL)

fresh basil leaves, coarsely chopped

2 cups (500 mL)