Fusilli pepperonata with roasted sweet peppers, artichokes and chilies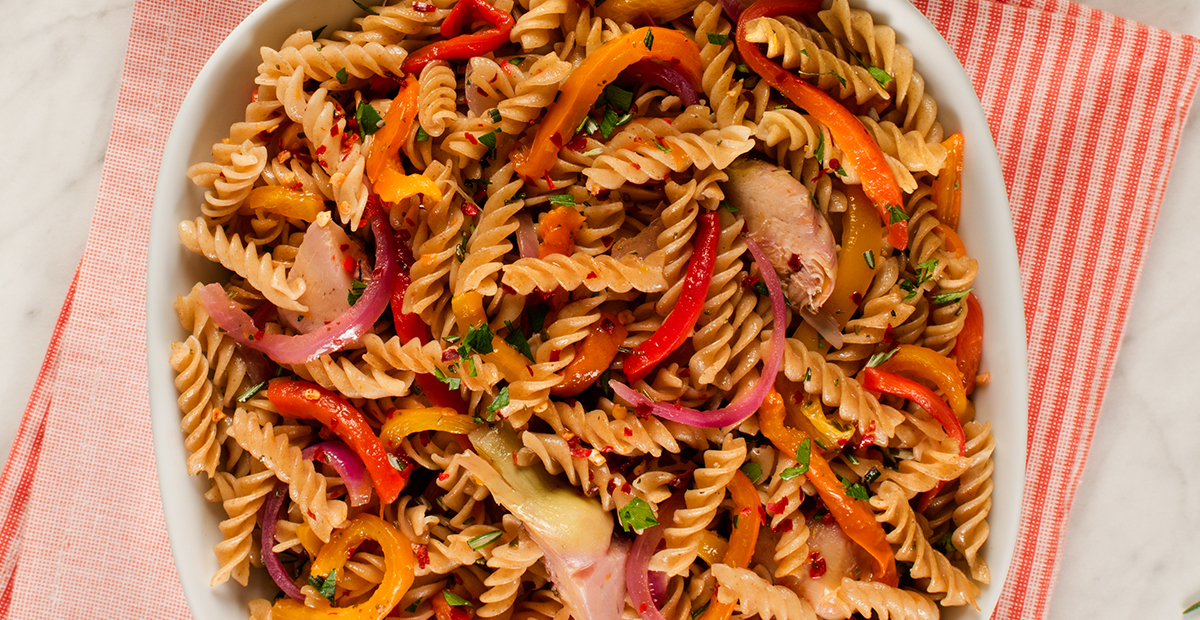 40 Min
---
60 Min
---
4
Ingredients
1 pkg (340 g) Catelli Ancient Grains Fusilli

1

red pepper

1

orange pepper

1

yellow pepper

¼ cup (60 mL)

extra virgin olive oil

2 cloves

garlic, thinly sliced

1 small

red onion onion, thinly sliced

1 tsp. (5 mL)

fresh rosemary, chopped

1 small

chili pepper, minced (optional)

½ cup (125 mL)

artichoke hearts, chopped

1 tsp. (5 mL)

red wine vinegar

½ tsp. (2.5 mL)

sea salt

½ tsp. (2.5 mL)

freshly ground black pepper

¼ cup (60 mL)

fresh Italian parsley, chopped
Cooking Steps
Step 1
Place the whole peppers on a BBQ or a grill pan on medium heat and cook for 30 minutes, turning occasionally until lightly charred and softened. Place in a covered bowl and steam for 10 minutes to loosen the skins. When cool enough to handle, remove the stems, discard the seeds and peel the peppers. Slice the peppers into thin strips and reserve in a large bowl.
Step 2
Heat the olive oil in a large skillet pan and cook the garlic and onions until softened and just beginning to caramelize, about 15 minutes. Add the rosemary, chili pepper, artichokes and sliced roasted peppers and continue to cook for 10 minutes more. Remove the pepperonata from the heat and stir through the red wine vinegar, salt, pepper and parsley.
Step 3
Meanwhile, cook the fusilli in a large pot of salted boiling water for 9 minutes or until just al dente. Drain in a colander and toss back together in the pot along with the pepperonata.
Tips:
– For meat lovers, this pasta is very hearty with the addition of Italian sausage.
– The pepperonata freezes well to pull out for quick dinners.