Gluten Free Spaghetti with Olive Pesto & Shrimp
Try our delicious recipe for Spaghetti with Olive Pesto & Shrimp. A gluten free meal the whole family will love!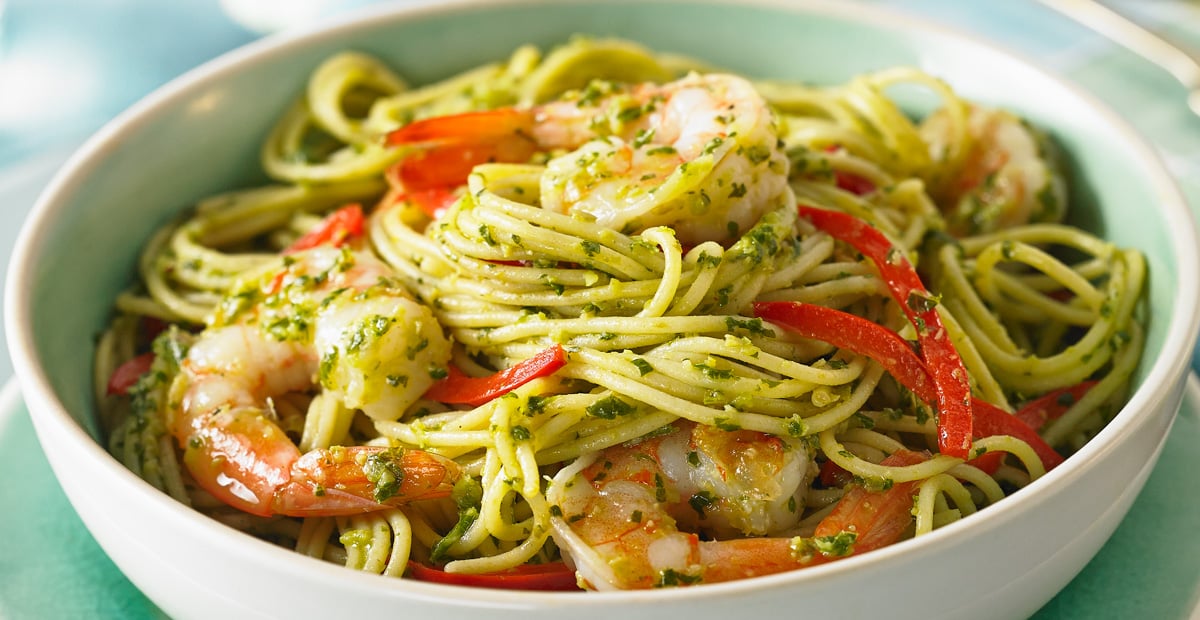 25 Min
---
4
Ingredients
1 pkg (340 g)CATELLI® GLUTEN FREE SPAGHETTI

1 1/2 cups (375 mL)

fresh parsley leaves

3/4 cup (175 mL)

fresh basil leaves

1/2 cup (125 mL)

pitted green olives

1/3 cup (75 mL)

chopped red onion

2 tbsp (30 mL)

fresh lemon juice

2

cloves garlic, minced

1/2 tsp (2 mL)

each salt and pepper

3 tbsp (45 mL)

extra virgin olive oil, divided

1 lb (500 g)

large shrimp, peeled and de-veined

1

red pepper, very thinly sliced
Cooking Steps
Step 1
Cook spaghetti according to package directions. Reserve about 1 1/2 cups (375 mL) cooking water before draining.
Step 2
Meanwhile, combine parsley, basil, olives, red onion, lemon juice, garlic, salt and pepper in a food processor. Pulse until finely chopped; pulse in 2 tbsp (30 mL) oil until smooth. Adjust seasonings to taste.
Step 3
Heat remaining oil in a large skillet set over medium-high heat. Stir-fry shrimp and red pepper until shrimp are just opaque. Add spaghetti and pesto mixture. Toss in reserved cooking water, at little at a time, until pasta is moistened to taste. Serve immediately.