Quick Chicken Caesar Spaghettini
Caesar salad fans will love this zesty combination of creamy pasta, crunchy broccoli and tender chicken. It's so delicious, it is worthy of main course status!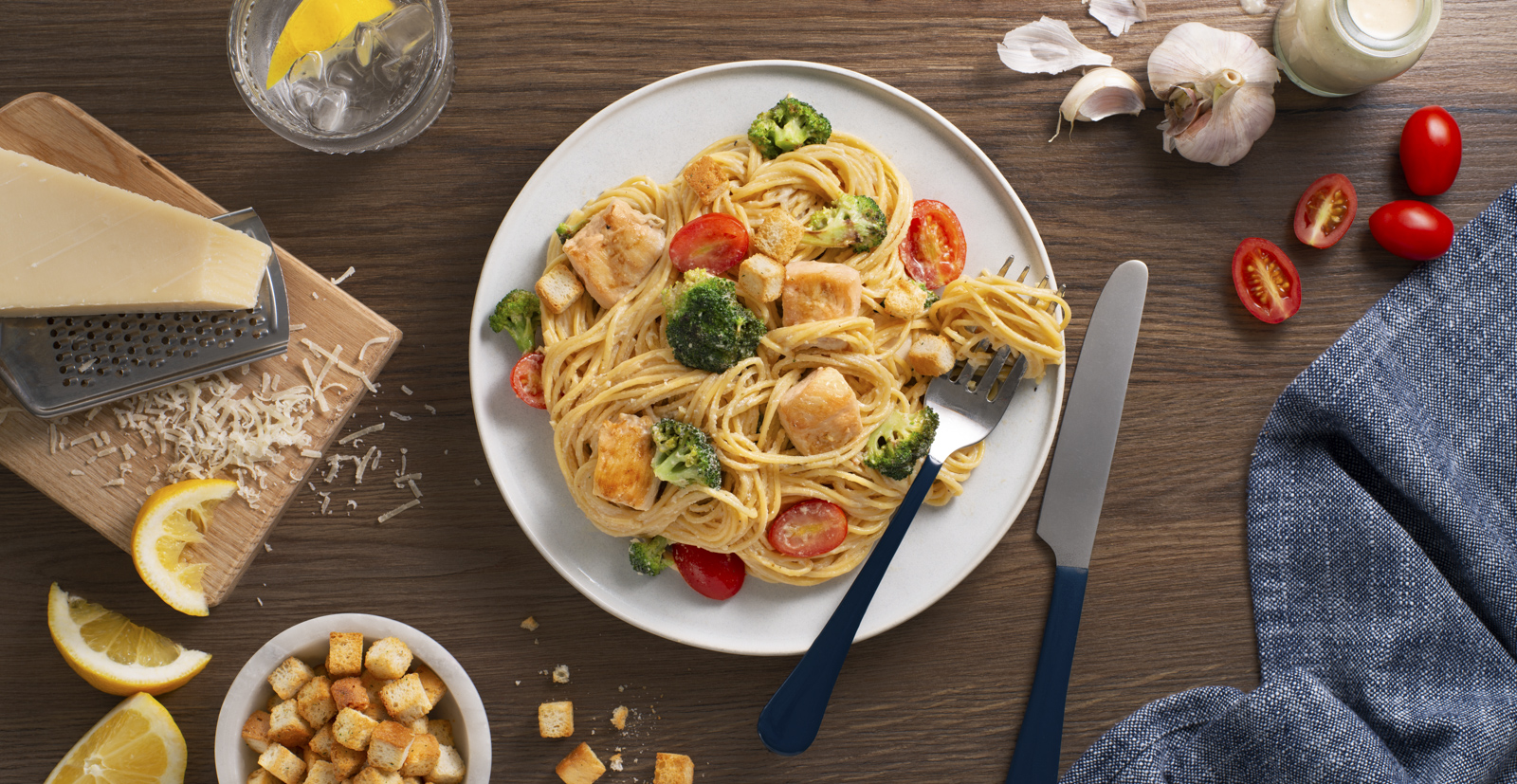 10 Min
---
15 Min
---
4 to 6
Ingredients
1 pkg (340 g) Catelli Smart VeggieTM Spaghettini

1/2 cup (125 mL)

Light mayonnaise

2 tbsp (30 mL)

Each lemon juice and grated Parmesan cheese

1 1/2 tsp (7 mL)

Minced garlic

1 tsp (5 mL)

Each Dijon mustard and anchovy paste

1/2 tsp (2 mL)

Ground black pepper, divided

1 tbsp (15 mL)

Canola oil

2

Large chicken breasts, cubed

1/4 tsp (1mL)

Salt

3 cups (750 mL)

Broccoli florets

1 cup (250 mL)

Halved grape tomatoes

Lemon wedges and crumbled garlic croutons (optional)
Cooking Steps
Step 1
Prepare spaghettini according to package directions. Measure out and reserve 1 cup (250 mL) pasta water before draining. Stir the mayonnaise with the lemon juice, Parmesan cheese, garlic, mustard, anchovy paste and 1/4 tsp (1 mL) pepper until smooth; set aside.
Step 2
Meanwhile, heat oil in a large nonstick skillet set over medium heat. Add chicken, salt and remaining pepper. Cook, stirring, until lightly browned. Add broccoli and cook, stirring often, until tender-crisp.
Step 3
Add spaghettini, tomatoes, dressing mixture and cooking water to skillet. Toss until hot and saucy. Serve with lemon and crumbled croutons (if using).
Tips:
• Replace the homemade Caesar dressing with 3/4 cup (175 mL) prepared, thick Caesar-style dressing.
• Anchovy paste, sold in the refrigerated seafood aisle, adds that characteristic "Caesar" flavour to the dressing, but it can be omitted.
• Add crumbled cooked bacon for an indulgent accent.