Cheesy Chicken Broccoli Cannelloni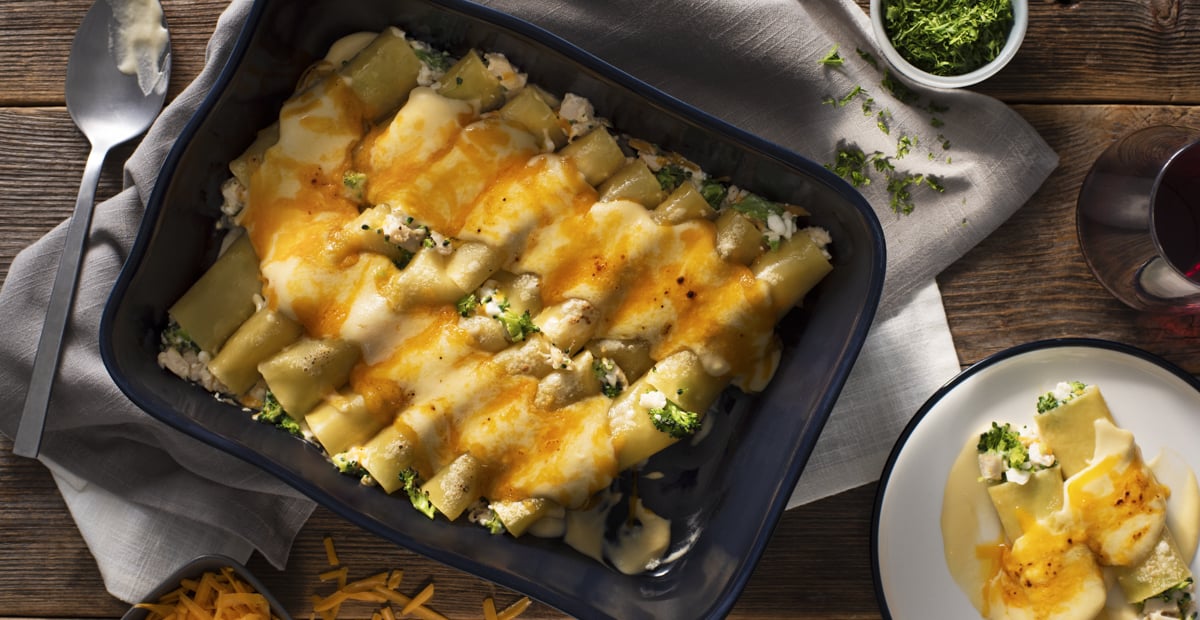 25 Min
---
50 Min
---
6
Ingredients
18 CATELLI EXPRESS Cannelloni

1 1/2 cups (375 mL)

cottage cheese

1 1/2 cups (375 mL)

finely chopped rotisserie chicken

1 cup (250 mL)

thawed, frozen broccoli florets, finely chopped

2 1/2 cups (625 mL)

shredded cheddar cheese, divided

3 tbsp (45 mL)

butter

1/3 cup (75 mL)

all-purpose flour

1 tbsp (15 mL)

Dijon mustard

2

cloves garlic, minced

1/2 tsp (2 mL)

each salt and pepper

3 1/4 cups (800 mL)

2% milk

finely chopped parsley or green onion (optional)
Cooking Steps
Step 1
Combine cottage cheese with chicken, broccoli and 1/2 cup (125 mL) Cheddar cheese; set aside. Melt butter in a saucepan set over medium heat. Stir in flour, mustard, garlic, salt and pepper. Gradually, whisk in milk. Cook, stirring, for 10 minutes or until sauce thickens. Stir in 1 cup (250 mL) cheese.
Step 2
Preheat oven to 350°F (180°C). Spread 1 cup (250 mL) sauce in 13 x 9-inch (3 L) baking dish. Fill cannelloni shells with chicken mixture. Arrange filled cannelloni in baking dish. Top evenly with remaining sauce.
Tips: To make it easy to fill cannelloni, spoon mixture into a zip top bag. Cut a corner and squeeze bag to pipe filling into each end of shells.
For easier preparation, chop chicken and broccoli in a food processor.
To quick-thaw broccoli, run under warm water in a colander; drain well before chopping.
Step 3
Bake, covered,for 45 minutes. Uncover and sprinkle with remaining cheese. Bake for 5 minutes or until cheese is melted. Garnish with parsley (if using).