Crockpot Steak Italiano Spaghetti
Melt in your mouth steak and tender mushrooms in a balsamic accented red sauce are a nice change from traditional meat sauce. Start this robust sauce in the morning and come home to the delicious smell of dinner just minutes away!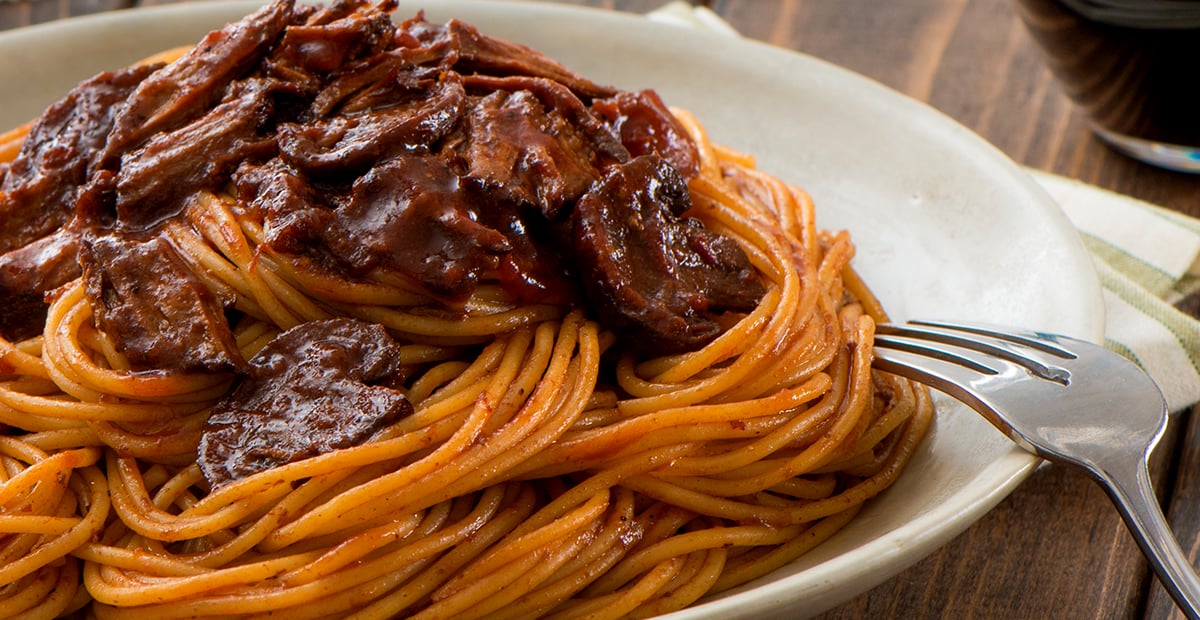 10 Min
---
5 Min
---
4 to 6
Ingredients
1 pkg (340 g) CATELLI Smart Veggie Spaghetti

1 lb (500 g)

simmering steak such as blade steak or top sirloin

1 tbsp (15 mL)

olive oil

1

sweet onion, thinly sliced

8 oz (250 g)

sliced mushrooms

3

cloves garlic, sliced

1 tbsp (15 mL)

dried oregano

1/3 cup (75 mL)

balsamic vinegar

1 1/2 cups (375 mL)

prepared marinara or pasta sauce

1 cup (250 mL)

beef broth

chopped fresh parsley (optional)

freshly grated Romano cheese (optional)
Cooking Steps
Step 1
Heat oil in a nonstick skillet set over medium-high heat. Add steak and brown on each side. Place in slow cooker. Add onions, mushrooms and garlic to the skillet; cook, stirring often, for 5 minutes or until starting to brown. Stir in balsamic vinegar and oregano, scraping up any browned bits. Spread vegetable mixture over steak.
Step 2
Stir marinara sauce with broth and pour into slow cooker. Set to low for 6 to 8 hours or to high for 4 hours. Use two forks to shred the meat in the sauce. Add parsley (if using).
Step 3
Meanwhile, prepare spaghetti according to package directions. Measure out half of the sauce to spoon over at the table. Toss pasta with remaining sauce and serve with reserved sauce and cheese (if using).
Tips
If you prefer a thicker sauce, uncover the slow cooker during the last hour of cooking to allow some of the moisture to evaporate. Or, add a mixture of 1 tbsp (15 mL) each cornstarch and water, blended until smooth. Heat on high until sauce is glossy.
Balsamic vinegar can range in acidity so if the sauce is too tangy for your liking, stir in 1 to 2 tsp (5 to 10 mL) brown sugar to balance the sauce.
The sauce can be prepared up to 3 days ahead and reserved in a container and then rewarmed in a skillet while the spaghetti is cooking.
The sauce can be prepared in an oven-proof Dutch oven; once all the ingredients are combined, bake at 325°F (160°C) for 2 1/2 to 3 hours or until meat is fall-apart tender.