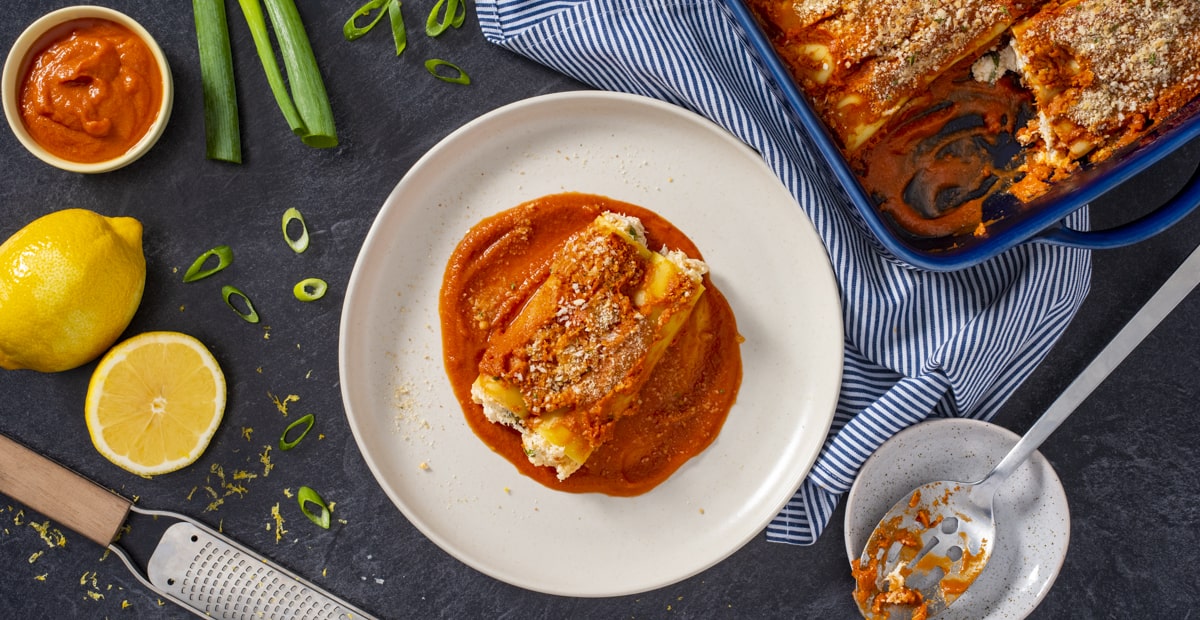 20 Min
---
50 Min
---
6
Ingredients
18 Catelli Express® Cannelloni

2 cups (500 mL)

Ricotta cheese

1 cup (250 mL)

Finely chopped lump crabmeat

3/4 cup (175 mL)

Grated Parmesan cheese, divided

2

Green onions, finely chopped

2 tsp (10 mL)

Finely grated lemon zest

1

Clove garlic, minced

1/2 tsp (2 mL)

Each salt and pepper

2 1/2 cups (625 mL)

Marinara sauce

2

Roasted red peppers, blotted dry

1/2 cup (125 mL)

35% whipping cream

1/2 cup (125 mL)

Panko bread crumbs
Cooking Steps
Step 1
Blend ricotta with crab, 1/2 cup (125 mL) Parmesan cheese, green onions, lemon zest, garlic, salt and pepper; set aside. Combine marinara sauce with roasted red peppers and whipping cream in a blender or food processor. Blend until smooth.
Step 2
Preheat oven to 350°F (180°C). Spread 1 cup (250 mL) sauce in 13 x 9-inch (3 L) baking dish. Fill cannelloni shells with crab mixture. Arrange filled cannelloni in baking dish. Top evenly with remaining sauce.
Step 3
Bake, covered, for 45 minutes. Meanwhile, toss breadcrumbs with remaining Parmesan cheese. Uncover and sprinkle with breadcrumb mixture. Broil for 2 to 3 minutes or until topping is browned.