Harvest Pasta Salad with Candied Pecans
When your Halloween trick-or-treaters want candy for dinner, this pasta salad with candied pecans will help lure them in for a nutritious and delicious meal.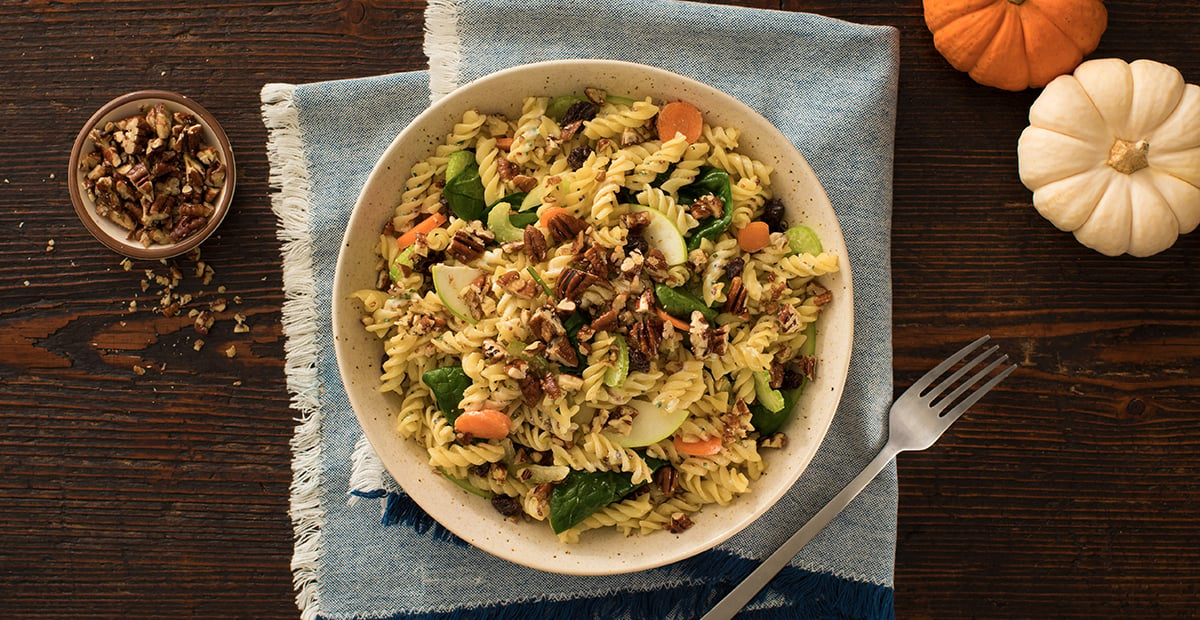 20 Minutes
---
20 Minutes
---
12 People
---
Cooking Steps
---
Step 1
To make candied pecans, preheat oven to 300°F (150°C). In a small skillet set over medium heat, combine sugar and 4 tsp (20 mL) water; bring to boil. Cook for 2 to 3 minutes or until sugar dissolves. Stir in pecans and salt.

Step 2
Spread in single layer on a parchment paper-lined baking sheet. Bake for 15 to 20 minutes or until caramel is set; let cool completely.

Step 3
Cook fusilli according to package directions; drain and let cool. Meanwhile, in a large bowl, whisk together yogurt, oil, vinegar, chives, mustard, honey, garlic, salt and pepper. Add pasta, tossing well. Fold in spinach, grapes, apple slices, and celery. Garnish with candied pecans.

Ingredients
---
Catelli Smart Fusilli

1 pkg (375 g)

Candied Pecans:

Brown sugar

1/4 cup (60 mL)

Pecans

1/2 cup (125 mL)

Salt

1 pinch

Pasta Salad:

Plain Greek yogurt

1/3 cup (75 mL)

Olive oil

3 tbsp (45 mL)

Apple cider vinegar

2tbsp (30 mL)

Fresh chives, finely chopped

2 tbsp (30 mL)

Grainy mustard

4 tsp (20 mL)

Honey

1 tsp (5 mL)

Clove garlic, minced

1

Each, salt and pepper

1/2 tsp (2 mL)

Baby spinach

2 cups (500 mL)

Halved red grapes

1 1/2 cups (375 mL)

Granny Smith apple, cored and thinly sliced

1

Stalks celery, thinly sliced

2