Mean Green Clean Pasta Salad
Loaded with lots of healthy green vegetables, this lemony pasta salad is a wholesome vegetarian lunch option!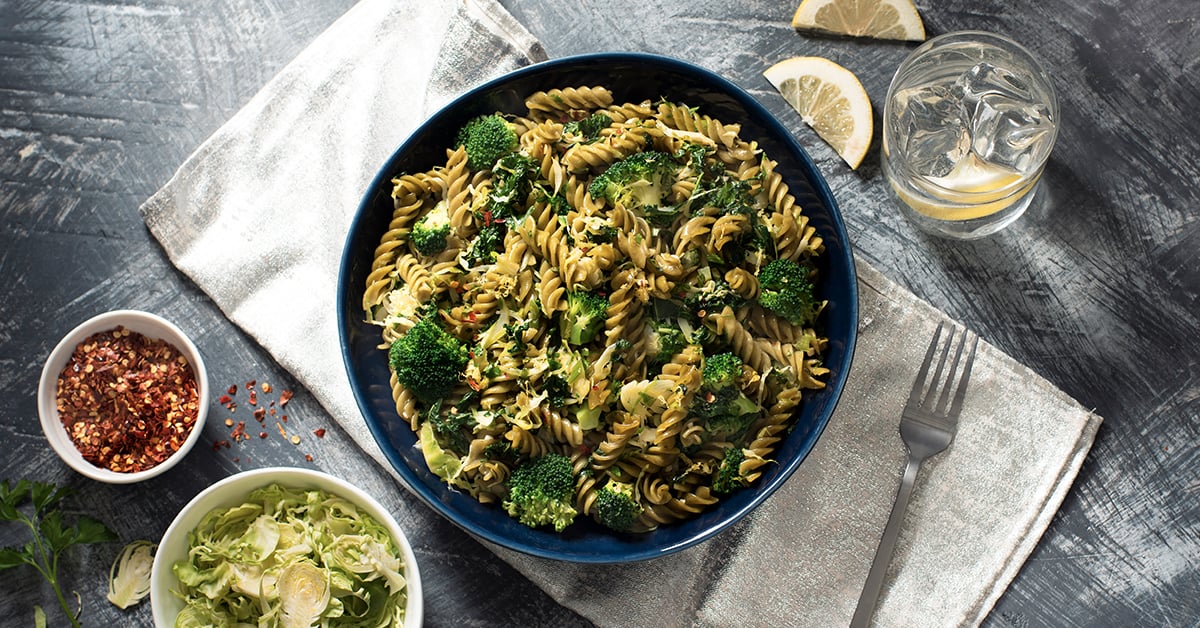 15 Minutes
---
15 Minutes
---
8 People
---
Cooking Steps
---
Step 1
Cook fusilli according to package directions; drain and let cool.

Step 2
Meanwhile, heat 3 tbsp (45 mL) olive oil in large skillet set over medium heat; cook broccoli florets and stalks, Brussels sprouts, green onions, garlic, salt, pepper and chili flakes for 5 to 7 minutes or until vegetables are tender. Stir in kale; cook for 1 to 2 minutes or until wilted.

Step 3
Toss together fusilli, broccoli mixture, basil, parsley and remaining oil. Stir in lemon zest, lemon juice and remaining oil. Serve hot or cold.

Ingredients
---
Catelli® Super Greens Pasta - Fusilli or Rotini

1 pkg (300 g)

olive oil, divided

1/3 cup (75 mL)

small broccoli florets

3 cups (750 mL)

diced peeled broccoli stalks

1/2 cup (125 mL)

shaved Brussels sprouts

2 cups (500 mL)

green onions, thinly sliced

6

cloves garlic, minced

4

each salt and pepper

1/2 tsp (2 mL)

chili flakes

1/4 tsp (1 mL)

loosely packed thinly sliced kale (stems removed)

4 cups (1 L)

each finely chopped fresh basil and parsley

2 tbsp (30 mL)

lemon zest

2 tsp (10 mL)

lemon juice

1/4 cup (60 mL)