Quick and Easy Tomato Basil Sauce
Try our recipe for a Quick and Easy Tomato Basil Sauce! This simple yet flavorful sauce is the perfect beginning to any delicious dish.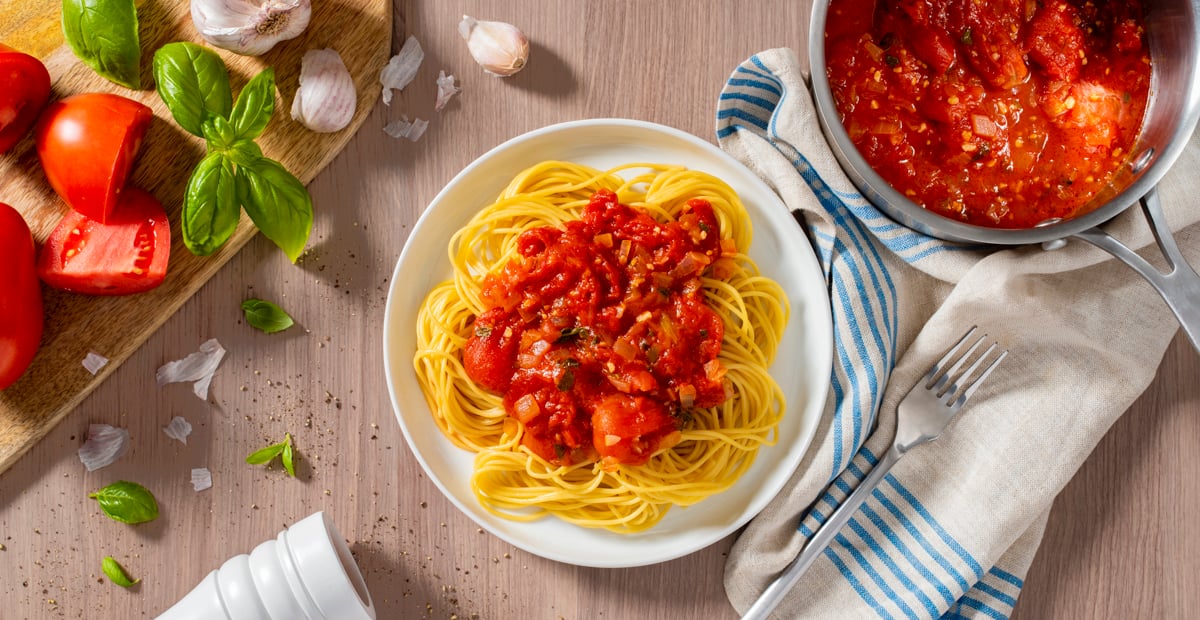 20 Min
---
6
Ingredients
1 pkg (375 g) Catelli Smart® Spaghetti

1

Onion

3

Garlic cloves

1 can (28 oz/796 mL)

Whole tomatoes

3 tbsp (45 mL)

Olive oil

1/2 cup (125 mL)

Finely chopped basil

1/2 tsp (2 mL) each

Salt and freshly ground pepper (approx.)
Cooking Steps
Step 1
Cook spaghetti according to package directions. Meanwhile, pulse onion and garlic in food processor until very finely chopped; remove and reserve. Pulse the tomatoes in the same food processor until smooth.
Step 2
Heat oil in a large, non-stick skillet set over medium heat. Add onion and garlic; cook for 5 minutes or until softened. Add tomatoes. Bring to a boil and simmer for 8 minutes or until heated though. Stir in basil; season with salt and pepper (adjust to taste). Serve over spaghetti.
Tips
Using a food processor to prepare the vegetables allows them to cook faster and saves preparation time. If you don't have a food processor, grate the onion and garlic on a box grater.
– Add additional lean protein by stirring 500 mL (2 cups) cooked, chicken breast strips, sliced steak or cooked large shrimp into the sauce to heat through.
– Customize this basic sauce to your family's taste by adding your choice of finely chopped fresh herbs or vegetables.
– Make a speedy meat sauce by browning 500 g (1 lb) lean ground beef, veal, chicken or turkey with the onions and garlic.