Rotini Guacamole Pasta Salad
Discover our tasty and healthy recipe for a Rotini Guacamole Pasta Salad! A delicious, novel take on an old classic!
| | |
| --- | --- |
| Tips | If making ahead, prepare the salad mixture and all of the dressing except for the avocado. For the brightest colour, add the avocado to the dressing at the last minute and toss just before serving. |
| | If using frozen corn, place the kernels in the colander before draining the hot pasta over it to thaw. |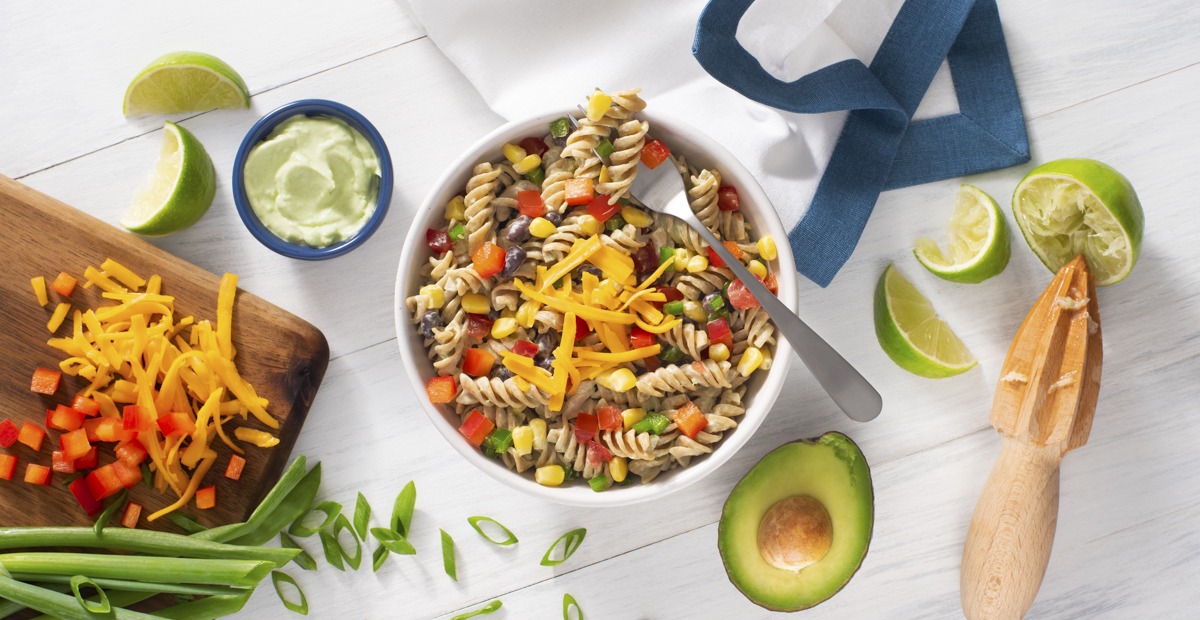 15 Minutes
---
10 Minutes
---
4 People
---
Ingredients
---
2 1/2 cups (625 mL) CATELLI HEALTHY HARVEST WHOLE WHEAT ROTINI

Ripe avocado, pitted and peeled

1

Fat free or light sour cream

1/2 cup (125 mL)

Seeded and chopped jalapeno pepper

2 tbsp (30 mL)

Lime juice

1 tbsp (15 mL)

Chili powder and ground cumin

1/2 tsp (2 mL) each

salt and pepperS

1/4 tsp (1 mL) each

Clove garlic, minced

1

Black beans, drained and rinsed

1 cup (250 mL)

Corn kernels, thawed

1 cup (250 mL)

Chopped, seeded tomato and red pepper

1 cup ( 250 ml ) each

Thinly sliced green onion

1/2 cup (125 ml)

Shredded reduced fat cheddar cheese

1/2 cup (125 ml)
Cooking Steps
---
Step 1
Cook the rotini according to package directions. Drain and rinse under cold, running water until cool. Drain well and set aside.
Step 2
Mash the avocado with a fork until smooth. Blend the avocado with the sour cream, jalapeno, lime juice, chili powder, cumin, salt, pepper and garlic until well combined. Taste and adjust seasonings as needed.
Step 3
Toss the rotini with the beans, corn, tomato, red pepper and avocado mixture until coated evenly. Sprinkle with green onions and cheese before serving.